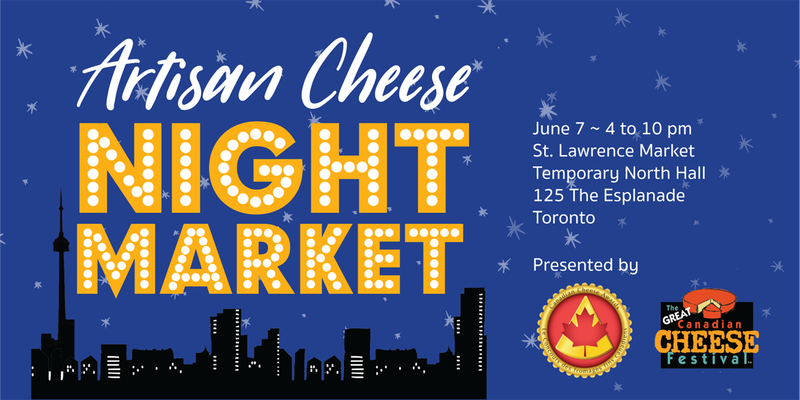 Calling all cheese lovers!
Come experience the first-ever Artisan Cheese Night Market where historic St. Lawrence Market's north hall will transform into a bustling celebration of the best in Canadian cheese, artisan food and local drink on Thursday, June 7.
Sample and purchase the best artisan cheeses in Canada, the 117 winners and finalists in the Canadian Cheese Awards. The biggest cheese competition in Canada concludes the evening prior with the crowning of the 2018 Canadian Cheese of the Year and 33 category winners. All winners and finalists will be at the Night Market!
Taste and buy the best artisan cheeses in Canada
Meet award-winning cheesemakers from coast to coast
Taste and buy artisan foods, charcuterie, breads and more
Enjoy fine wine, craft beer and cider, and spirits
There will be tasty foods to purchase and enjoy in a comfortable lounge area
Live entertainment will keep the celebrations going all evening.
To avoid overcrowding, two sessions, 4 p.m. to 7 p.m. and 7 p.m. to 10 p.m. Strictly 19+.
SAVE $5.00 BY USING THE ORDER FORM BELOW!  Advance ticket $35.00 covers admission to the Night Market and includes a take-home tasting sample of the 2018 Canadian Cheese of the Year PLUS a big insulated souvenir tote bag to haul your purchases home. Regular admission price at door $40.00. All tickets plus tax. Minimal fee for online purchases.
Click for information on attending as a group, having more fun and saving money!
                                        Awards Tasting Gala following 2016 Awards Ceremony in Montréal
VIP Combo Pass—$100—Only 42 still available
If you're crazy about cheese and want a really memorable Cheese Awards experience, order a VIP Combo Pass that will get you into the Night Market on Thursday as outlined above PLUS admit you to the Awards Ceremony and Tasting Gala on Wednesday when the winners are announced and presented for sampling by members of the cheese industry and special guests like you. It will be the cheese party of the year!
The Awards Ceremony starts at 4:30 p.m. with the Tasting Gala getting under way at 6:00 p.m. on Wednesday, June 6, the day before the Artisan Cheese Night Market.
Historic St. Lawrence Market's temporary north hall is located at 125 The Esplanade, just south of the main Market in downtown Toronto. 
Canadian Cheese Awards and related events are produced by Cheese Lover Productions Inc. with the support of Loblaw Companies as Marquee Sponsor and Dairy Farmers of Canada as Principal Partner for Cow Milk Cheese.
The Great Canadian Cheese Festival is on hiatus in 2018 to allow resources to be devoted to the launch of Canadian Cheese Awards Night Market and related events.