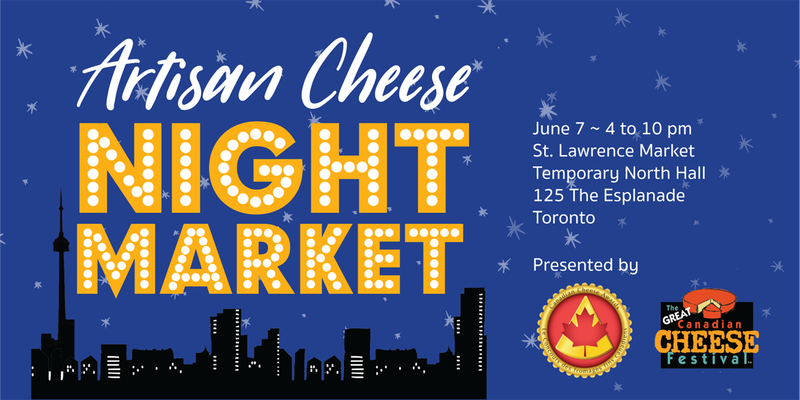 SOLD OUT!

All sessions sold out for Artisan Cheese Night Market. No tickets available at door. We'll be back same time same place next year with additional sessions to handle the demand for #CDNcheese.
Complete list of award-winning cheeses posted here: http://www.cheeseawards.ca/winners-e/
Canada's first-ever Artisan Cheese Night Market is a sampling show where you can try before you buy. Once you have purchased admission, sampling of award-winning Canadian cheese, Québec and Ontario charcuterie, Ontario artisan foods, plus Niagara wines, Ontario craft beer and cider, and Prince Edward County spirits is free. That's correct, FREE and included in the price of admission.
Admission also includes a generous sample of the 2018 Canadian Cheese of the Year to take home for the first 1,000 ticket buyers PLUS a big insulated souvenir tote bag for everyone for your purchases. Regular admission price is $40.00 plus tax. Order tickets in advance online, avoid having to line up to buy a ticket at the event and quickly access all the deliciousness via the Express Entrance.
Order your tickets soon as we are certain to sell out. NO tickets will be available at the door.
For the Night Market, historic St. Lawrence Market's Temporary North Hall will transform into a bustling celebration of the best in Canadian cheese to conclude the 2018 Canadian Cheese Awards. The biggest cheese competition in Canada concludes the evening prior with the crowning of Cheese of the Year and 33 category winners. Most winners and finalists will be at the Night Market.

Try and buy the best artisan cheeses in Canada
Meet award-winning cheesemakers from coast to coast
Try and buy artisan foods, charcuterie, breads and more
Sample fine wine, craft beer and cider, and spirits
There will be tasty foods to purchase and enjoy in a comfortable patio setting
Live entertainment will keep the celebrations going all evening.
To avoid overcrowding, two sessions, 4 p.m. to 7 p.m. and 7 p.m. to 10 p.m. Strictly 19+.

Click here for information on attending as a group, having more fun and saving money!
                                        Awards Tasting Gala following 2016 Awards Ceremony in Montréal
VIP COMBO PASS—$100.00—Only 27 tickets remain!

If you're crazy about cheese and want a really memorable Cheese Awards experience, order a VIP Combo Pass that will get you into the Night Market on Thursday as outlined above PLUS admit you to the Awards Ceremony and Tasting Gala on Wednesday when the winners are announced and presented for sampling by members of the cheese industry and special guests like you. It will be the cheese party of the year!
The Awards Ceremony starts at 4:30 p.m. with the Tasting Gala getting under way at 6:00 p.m. on Wednesday, June 6, the day before the Artisan Cheese Night Market, at the same venue at 125 The Esplanade in downtown Toronto.

HOW TO GET THERE
Using public transit to get to St. Lawrence Market for Artisan Cheese Night Market is a snap. Union Station, with GO, Via Rail and TTC subway stops, is an 11-minute walk. The Yonge subway stop at King is a 12-minute walk. The Market is mere minutes from TTC streetcar stops at Jarvis on the King and Queen lines. There also is a Jarvis bus that stops steps from the Market.
PLEASE NOTE: Market Street, from the Esplanade to Wilton street will be closed to allow for attendees to roam through and around the night Market, and vendors to sample their wares in a streetscape setting.  Access to and exit from the Public Parking Parkade will be limited to Wilton Street during the time of the closure (June 7 from noon to midnight).
Taxi and Uber will get you there even quicker.
If you're coming by car, designate a driver for a safe trip home as there will sampling of alcoholic beverages at the Night Market, if you're so inclined. There will also be a bar open on the patio.
If you're driving, best place to park is the Green P parking garage with entrances at south end of Church Street and south end of Market Street:
Carpark 43 ~ St. Lawrence Garage ~ 2 Church Street
Also enter from Market Street just south of St. Lawrence Market
Rate: $2.50 / Half Hour
Capacity: 2,008 spaces (Yes, 2,008!)
Payment Options: Auto Express Pay Stations, Credit Card at Entry & Exit, Customer Assistance Booth
Accepted Forms of Payment: Bills, Coins, Charge (Visa / Mastercard / American Express Only)
Canadian Cheese Awards and related events are produced by Cheese Lover Productions Inc. with the support of Loblaw Companies as Marquee Sponsor and Dairy Farmers of Canada as Principal Partner for Cow Milk Cheese.
The Great Canadian Cheese Festival is on hiatus in 2018 to allow resources to be devoted to the launch of Canadian Cheese Awards Night Market and related events.