Tickets are selling quickly, order yours right away!
Canada's only Artisan Cheese Night Market is a unique sampling show where you try before you buy, located in Toronto's historic St. Lawrence Market Complex, one day only, Thursday, June 6.

Try and buy the best artisan and farmstead cheeses in Canada
Meet cheesemakers from coast to coast
Try and buy artisan foods, charcuterie, chocolate and more
Sample Ontario wine, craft beer and cider, and spirits

Purchase and enjoy tasty eats from specialty food vendors

Live entertainment will keep the celebration going all night long.
To avoid overcrowding, the Night Market runs in three three-hour sessions, 12 noon to 3:00 p.m., 3:30 to 6:30 p.m., and 7 p.m. to 10 p.m. Strictly 19+.
Order your tickets right away as the event is sure to sell out! For example, only 10 tickets remain available for Session 3 from 7 p.m. to 10 p.m.

Admission to the Early-Bird Session 12 noon to 3:00 p.m. is $30.00 per person. Regular admission is $40.00 per person for Session 2 or 3. Click on the Eventbrite button to begin your order.
Your ticket covers sampling of award-winning Canadian cheese, charcuterie, chocolate, roasted nuts, shortbread, olive oil, drunken jams, gourmet butter, ginger tonic, chutney, plus Ontario wine, craft beer and cider, and spirits. That's correct, sampling is included in the price of admission. Also included is a big insulated souvenir tote for your purchases.
Order tickets in advance online, avoid having to line up to buy a ticket at the event and quickly access all the deliciousness via the Night Market's Express Entrance.
Click here to learn about informative and entertaining seminars added to Night Market program.
Click here for information on attending as a group, having more fun and saving money!
WATCH FRESH MOZZARELLA MADE!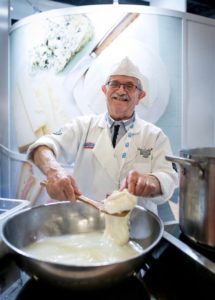 Mozzarella Master Angelo Pelosi will demonstrate the ancient craft of stretching fresh mozza that he first learned more than 50 years ago in his native Puglia, Italy. Angelo will demonstrate the craft at 2:00 p.m. during Session 1 and at 3:30 p.m. during Session 2, adjacent to Quality Cheese where the freshly stretched mozzarella will be sold.
HOW TO GET TO ST. LAWRENCE MARKET

For the Artisan Cheese Night Market, historic St. Lawrence Market's Temporary North Hall at 125 The Esplanade will transform into a celebration of the best in Canadian cheese and other deliciousness.
Using public transit to get to St. Lawrence Market is a snap. Union Station, with GO, Via Rail and TTC subway stops, is an 11-minute walk. The Yonge subway stop at King is a 12-minute walk. The Market is mere minutes from TTC streetcar stops at Jarvis on the King and Queen lines. There also is a Jarvis bus that stops steps from the Market.
Taxi and Uber will get you there even quicker.
If you're coming by car, designate a driver for a safe trip home as there will sampling of alcoholic beverages at the Night Market, if you're so inclined. There will also be a cash bar.
If you're driving, best place to park is the Green P parking garage with entrances at south end of Church Street and south end of Market Street:
Carpark 43 ~ St. Lawrence Garage ~ 2 Church Street
Also enter from Market Street just south of St. Lawrence Market
Rate: $2.50 / Half Hour
Capacity: 2,008 spaces (Yes, 2,008!)
Payment Options: Auto Express Pay Stations, Credit Card at Entry & Exit, Customer Assistance Booth
Accepted Forms of Payment: Bills, Coins, Charge (Visa / MasterCard / American Express Only)
EXPERIENCE VIP ACCESS TO THE WORLD'S BEST MARKET AND THE CHEESE MARKET

Check out the VIP Access Tour being offered by our partner, Culinary Adventure Co. It combines an exclusive tour of St. Lawrence Market—called the world's best market by National Geographic—with early access to all the deliciousness at the Night Market.

And that's not all! Buy a ticket to the Night Market and receive a $20 gift voucher good toward the cost of any of the many amazing food tours offered by Kevin Durkee and the crew at Culinary Adventure Co.
OVERNIGHT ACCOMMODATIONS
Available at all price levels within walking distance of St. Lawrence Market.
WHO WE ARE
Canada's only Artisan Cheese Night Market is produced by Cheese Lover Productions Inc. which also produces Canadian Cheese Awards and The Great Canadian Cheese Festival. In 2018, Artisan Cheese Night Market was first held in conjunction with Canadian Cheese Awards. Given the enthusiastic response from cheese lovers, the Night Market returns in 2019 as a stand-alone event.